April Update: New Genius Tools
Annuities Genius was updated on April 12. Here are the highlights.
Universal Illustrator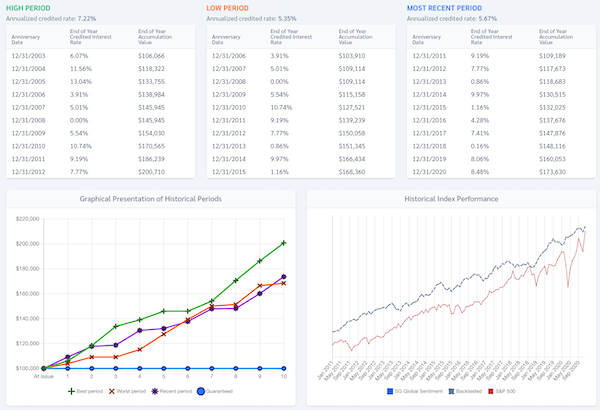 Illustrate every Fixed Index Annuity with all the details:
Accumulation value
Hypothetical performance
Guaranteed Income riders
Performance-driven income riders
Increasing income riders
Enhanced death benefit riders
Systematic withdrawals
RMDs
Additional premiums
Systematic payments
... All in one tool!
Just like your illustrations on carrier websites.
Now you can do it in one place, in a standardized way.
Enhanced Death Benefit Rider Calculator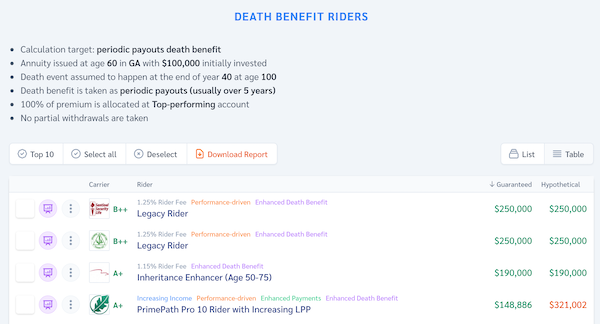 Unique to Annuities Genius.
Find the best death benefits for your clients.
Sort and Rank by Guaranteed or Hypothetical values.
Switch death benefit type from Lump Sum to 5-year Payouts.
Print ranking reports and illustrate each annuity individually.
Multifunctional Income Rider Calculator
This is a completely new tool which can:
Calculate guaranteed income riders
Show hypothetical lifetime income for performance-driven riders
Illustrate total lifetime withdrawals to explore increasing income riders
Solve for premiums
Print amazing reports with rider details
Take different allocation strategies into account
And so much more...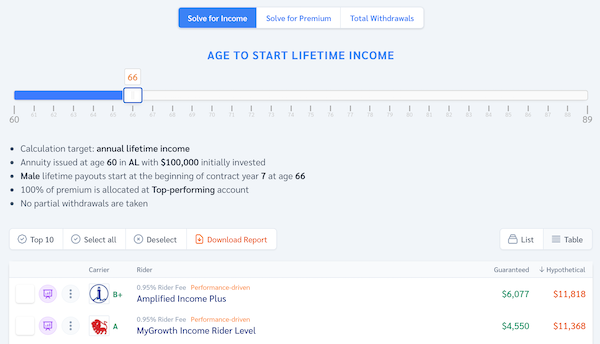 Deprecated Tools
The Backtest Historian tool has now become part of the Universal Illustrator. Unlike the Backtest Historian tool, the Universal Illustrator takes rider fees and other product features into account and gives a more transparent view of the product.
The Guaranteed Income Calculator will be replaced by the more powerful new Multifunctional Income Rider Calculator, which can show both guaranteed and hypothetical income values.
Learn More
The best way to learn the new tools is to attend, via zoom, Annuities Genius Live.
Annuities Genius Live is our daily Prime training webinar every M-F from 9:00-9:30 (Pacific) and is open to all Prime members.
This is where we use Annuities Genius to solve various scenarios and walk through the whole process.
We also have Q&A.
Register for the next webinar to see it with your eyes.