The Income Rider Calculator; An Agent's Best Friend
The popularity and availability of income riders has SKYROCKETED and your clients are going to want to know about all of the latest options for this fixed index annuity benefit. People are living longer, and they need to make sure that they have a steady income stream that provides comfort and security in their later years. A guaranteed lifetime income will ensure that your clients do not outlive their money, eliminating longevity risk.
BUT how are your clients going to find a living benefit that best meets their needs? Premium sources, target dates, and flexibility change from person to person. How will you, as agent, educate your clients on the benefit that best enhances their annuity product?
There is a constant stream of new products flooding the market and that can be confusing and stifling for both agents and clients. Luckily, our data team is on the clock 24 hours a day, refining and updating our inclusive database of the carriers and programs to ensure that our reports are accurate and current.
When you log in to your dashboard, you will find the Rider Calculators in the blue column on the left-hand side of your screen. In addition to the Guaranteed Income calculator, you will also have access to a Projected Income calculator (in beta testing) and a Death Benefit Calculator (coming soon).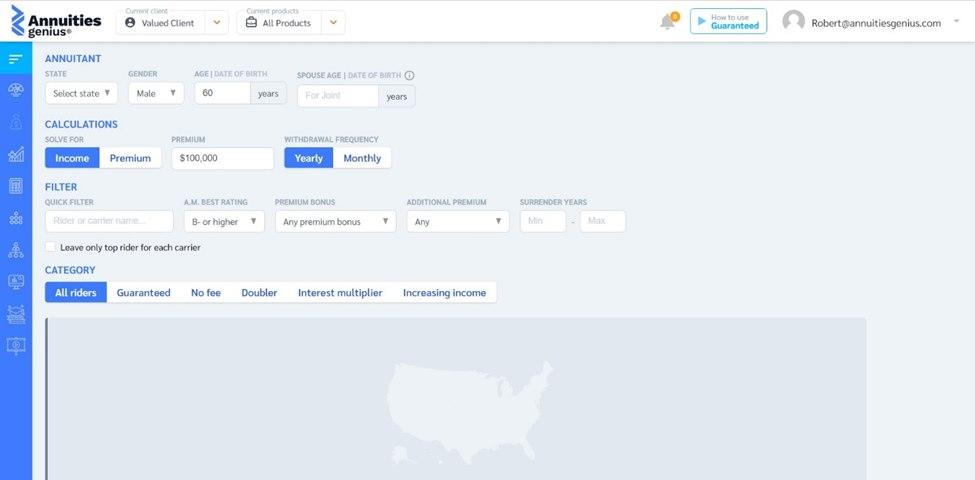 Once the calculator is open, you will enter the state, gender, and age of your current client. You will have the option of adding their spouse's age to calculate joint payouts as well.
Next, you will be able to choose to solve for income OR premium and choose yearly or monthly withdrawal. You can filter these results by rider or carrier name, ratings, bonuses, and surrender years based on your client's needs.
You will also be able to choose categories that are specific to your case, such as no fee, rider doublers, interest multipliers, and increasing income.
The best part? The calculator works even faster than reading this blog article! If you are ready to see it in action, click here for a free demo.
We know that collecting reports and illustrations the old way just is not going to cut it.
How many hours, days or even weeks go by before you have everything you need to make a presentation to clients?
Can you imagine a client anxiously waiting on information regarding the money they have worked so hard to save?
Or tirelessly collecting reports and comparing them at your kitchen table?
What if you were able to do same thing in seconds? Can you imagine? We can.
The ability to illustrate the best income riders quickly and efficiently is what sets our subscribers apart from agents still doing things the old way; all you have to do is enter a few key pieces of information, slide a few toggles, and you are finished!
Using our Income Rider calculator helps agents circumvent hours of frustration by allowing them to easily present calculations and illustrations with the click of a button! Even when considering difficult things like changing variables and VA contracts, our calculator helps agent choose the very best living benefit for their client.
The Annuities Genius Income Rider Calculator also integrates seamlessly with the rest of our platform to act as a complete client-facing point-of-sale tool. The days of going to three different websites, in addition to tons of phone calls, are over; tools like a Growth Analyzer and an Index Indicator ensure that EVERYTHING you need is in one place.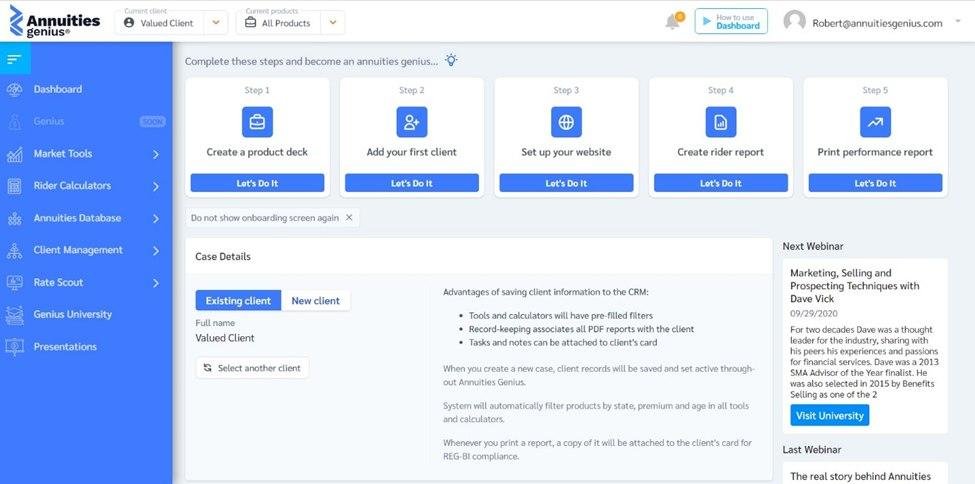 The Annuities Genius Income Rider Calculator is modern, simple, and easy-to-use.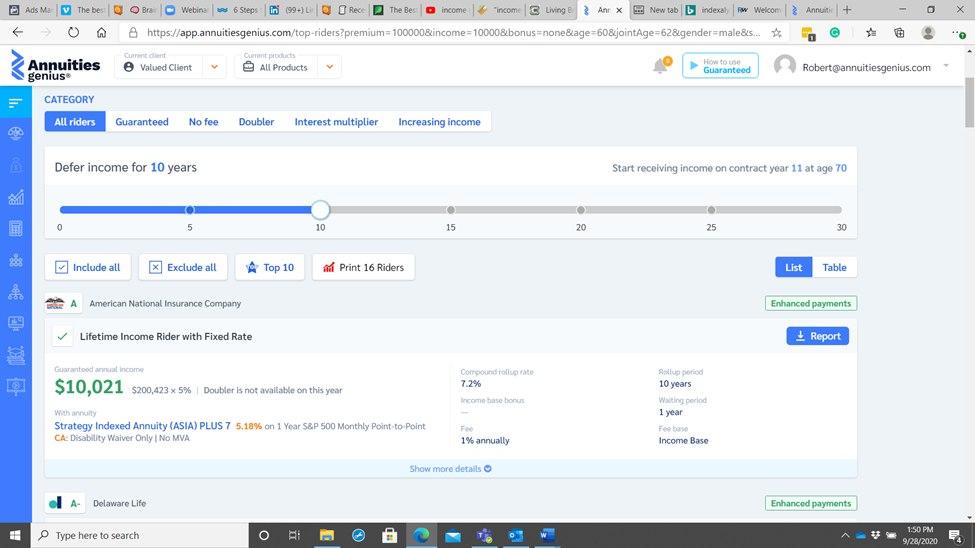 Once the calculations are complete, you can print out all the relevant reports and share them physically with your client OR--because we've created the Genius to be intuitive and client-facing--you can go over each option with you client and even show them a side-by-side comparison of this information virtually.
You will be able to provide your clients with a PERSONALIZED income rider report in real-time. This report will also be stored/record-kept under your client's file in the CRM section under "Records" to make sure that you are able to approach compliance with ease. We want to be sure you are recommending the perfect product for your clients and with our Income Rider Calculator you can quickly conduct high-quality research while protecting yourself at the same time.
In addition, our subscribers receive UNLIMITED monthly reports—no hidden fees or extra charges with Annuities Genius—just one flat-rate gets you access to everything you need to search, choose, and present annuities with ease.
Sounds like a great tool, right? We agree! Over the next month, we will be covering all of the ways that the Income Rider tool can be used to make your life easier by helping you determine the very best living benefit for your clients.
Have any questions? E-mail us at robert@annuitesgenius.com
Check back regularly to stay in-the-know!
(and again, if you haven't scheduled a demo, you can do that by clicking here)